ASIDE FROM the winning tradition, Yankee Stadium, due to its vastness, was like no other Major League ballpark. Only Mickey Mantle of the thousands who stepped to home plate cleared the 461-foot center field wall (and typically of Mick he did it twice: once from each side). Left center was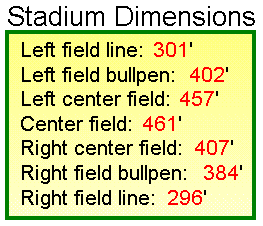 just as distant: 457 feet, with right center a still intimidating 407 feet. It was down the foul lines, 301 feet in left and 296 in right, that things got easier for a long ball hitter. For a right handed batter like the Yankee Clipper, "death valley" was an apt label for this ball field. Parenthetically, during DiMaggio's heyday and, in fact, well into Mantle's, fans could walk on the field after the game when leaving. The monuments to Babe Ruth, Lou Gehrig and manager Miller Huggins, now hidden from public view, were placed right at the 461' marker. It seemed that home plate was a mile back, in the middle of a towering three-tiered vault.
Even in his too-brief career of thirteen seasons, DiMaggio would have achieved far more offensively had he played in any other park. In 1939 an eye infection in the last two weeks of the season plummeted his batting average from .412 to .381. Otherwise, pressure player that he was—how else account for the 56-game hitting streak—he would surely have surpassed .400. As high as .381 is, without doubt many a ball that was caught on the fly would have been against the wall or over it save at Yankee Stadium. A proud but not boastful man, when Joltin' Joe intimated that he might have broken Babe Ruth's single season home run mark of 60 in 1937 but for the huge dimensions of center and left center, it may well have been so. He had to settle for 46, the highest of any Yankee right-handed hitter before the park was remodeled.
DiMaggio may have been a better hitter than even Ted Williams, his rival among the game's greats at the time. The general consensus has him as the better all-around player with Williams the better hitter. An imaginative statistician suggested otherwise, comparing the road records of each to discover DiMaggio's batting average to be five points higher: .333 to .328. Had he replaced Williams or Musial in their respective parks, the man who wore number five on his back would easily have hit 500 home runs, probably have attained a batting average 20 points higher than his lifetime .325, with a lot more runs batted-in (it took thirteen seasons to garner 1537 while Mantle, playing in eighteen, had 1509). Add three peak years lost in WW II and it's quite a "could-have-been!"
To return to the television metaphor, there's no hiding the fact that DiMaggio's image had its distortions and imperfections. "The other DiMaggio," his brother Dominick was believed by many at that period to be Joe's superior defensively in center field. Playing with (and compensating for) Ted Williams, Dom had 400 putouts in four of only ten seasons, once topping 500, an accomplishment surpassed solely by Richie Ashburn among players post-dating WW II. (An excellent lead-off type hitter who batted a career .298 and appeared in eight all-star games, the "Little Professor," his nickname, now no longer enjoys much standing among the faculty.)
Then there is Joe's undistinguished World Series record. Beyond the rare display of anger at Al Gionfriddo's catch that cost him a home run in the 1947 clash with the Dodgers, not much else comes to mind in the ten that he played in.