DI MAGGIO, further, was in it clearly for the money. Were he playing now, by his own admission he'd be auctioning himself to the highest bidder. Mantle laughed at the DiMag's quip that as an active player he'd be whispering in George Steinbrenner's ear: "Hi partner." On the flip side there was his free-loading, a precursor of current athletic tradition. The eulogies of his skill cast aside Gay Talese's critical piece in Esquire magazine telling that, among other things, it was understood that it wasn't his hand that reached for the tab.
There is a telling incident involving Mickey Mantle just before the Opening Day game against the Boston Red Sox in 1951. Ted Williams comes over to greet DiMaggio (not the reverse), with Mickey, then nineteen, standing by his side, awe and jitters as the real thing is about to start. Instead of introducing the rookie, DiMaggio says nothing, leaving it to Williams to acquaint himself : "You must be Mick." Unlike Mantle in the same situation when he later became a veteran, DiMaggio wasn't one to grant favors to newcomers, even a teen.
Of course, the kids that saw Joltin' Joe perform didn't know or care about egos, complexities, economics and statistical speculation. Joe DiMaggio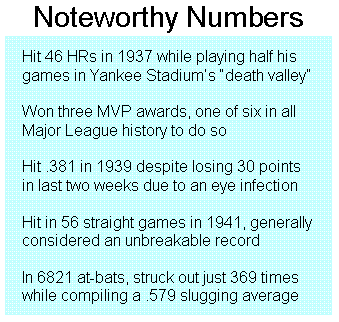 and the millions of fans during those years were both lucky. His job was baseball, which he could do as well, if not better, than anybody in his time. The rules that made him a chattel of the owners also made him the game's king, both individually and as a team player. However grand the
achievement, it was interwoven with a team spirit that inspired immense fan loyalty, almost to the point of love. For this man's memory now, as was the reality when he was eight, watching Joe DiMaggio's grace at catching a distant fly ball or seeing him pull into third with stand-up triple was like watching a god whose uniform would forever be New York's.
WAS HE THE BEST? He certainly ranks with Aaron, Mays, Williams, Musial, Gehrig, and Jimmie Foxx—meaning a tad below The Babe. Like Gehrig, who showed no signs of slowing down until ALS struck him down, and Williams, the only ballplayer to fight in two wars, it's tantalizing to conjecture what DiMag might have accomplished with an uninterrupted career, even saddled with the handicap of Yankee Stadium's size. It is a truly exceptional player that gains such wide admiration from those going out as he enters, those he played with, and the many that followed him.
The six years following Joe DiMaggio's retirement in 1951 had New York's teams setting the standard for some of the greatest baseball ever played. Never in the sport have three Hall-of-Fame center fielders and two catchers played at the same time in the same city.Yet Paul Simon, a decade later and then in his twenties, chose DiMaggio to focus our nation's loss of focus and morality in his famous "Where have you gone Joe DiMaggio?" The rejoinder, "America turns her lonely heart to you," is less-often quoted, but the message is as apt now as thirty years ago. With his death number five's shadow has extended like Janus: toward the uncertainties of the forthcoming millennium, while providing a past record that serves as a model of dignified excellence. DiMaggio delivered!