(TM)

Vol. II, No. 3 March 1996



ACLU v. Reno Update

The Ethical Spectacle is suing Janet Reno as a plaintiff in ACLU v. Reno, the case to overturn the Communications Decency Act.Check these pages weekly for status reports and links to other relevant sites.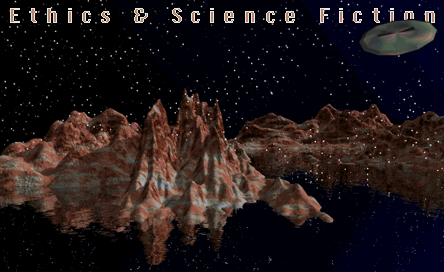 Guest Editor: David E Romm
If A Tree Falls In A Forest, by David E Romm
An Experimental Act, by Jane Yolen
The View From Atop The Monkey Bars, by Bruce Bethke
My Father's Class, by Lawrence Watt-Evans
and Utopia, a note on "My Father's Class", by David E Romm
Davy and Huck Finn, by David E Romm
Philip K. Dick and Human Kindness, by Jonathan Blumen
The Ethics of Uplift, by Philip Tung Yep
Orphan of Creation and The Color Purple, by David E Romm
Ethics & the Smartass SF Writer, by Bruce Bethke
Some Thoughts on Ethics and Science Fiction, by Ross Pavlac
and Christian SF/Fantasy: Recommended Reading
Fictions
When The Chips Are Down: A Radio Play by David E Romm
148 Words: A Story by Jonathan Blumen


Current Events
Haiti: Where the Bleeding Never Stops
Congressman Dornan's Perversion


The Ungovernable Internet
My Letter to the Wiesenthal Center
The Church of Scientology and Copyright Law by Mike Green


Friends and Flames
Senator Helms, the NEA and The Combine Plot by Frank Moore
Two Poems About the Holocaust, by Katherine M. Searle
Cyndi Balzrette submitted Probably the Last Rant I'll Publish About Interview With the Vampire
Ending US Minority Rule, by Demrep1@aol.com
The Big Blur, by Seymour Schechtman


Alert
Please read about Mumia Abu-Jamal


Permanent exhibits

Letters to the Ethical Spectacle
Other Ethical, Political and Legal Web Sites

About Jonathan Blumen and The Ethical Spectacle
Write for the Spectacle! Articles on any ethical, political or legal topic will be considered, whether or not I agree with the opinions expressed. I am also seeking correspondents to cover particular interests and topics on a regular basis; eg, a Washington correspondent or a media correspondent, for example. Particularly needed: a conservative to cover the ethics of the President and the Democrats the way I cover Mr. Gingrich....
Coming next month: Progress and decay. May: War crimes. June: The bomb.
"Noticing that no-one held the values I defended, I decided to make a spectacle of myself."--Richard Foreman
I've written a book on free speech in cyberspace. For more information:

Copyright Jonathan Blumen 1996 except as otherwise indicated
Artist: Laurie Caro; all art copyright Laurie Caro 1996 except as otherwise indicated
Email: jblumen@spectacle.org