(TM)

Vol. III, No. 5 May 1996



Mark Mangan and I have written a book on free speech in cyberspace.




ACLU v. Reno update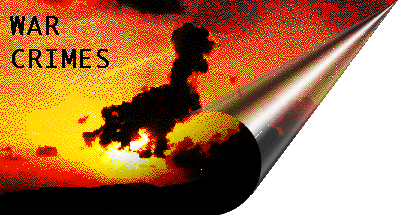 Photo Credit: Gene Sampson at sampson1@ix.netcom.com
Introduction: "War Crimes": An Oxymoron?
Nuremberg was Not a Fair Trial
The United States and War Crimes
Conclusion: A Law of War Requires World Government


Friends
Bob Wilson and Those Pesky Liberals
If we Forget: Daniel Tatar Visits the Death Camps


The irrepressible Internet
Seth Finkelstein on CFP-96


Alerts
Kathryn Lyon: A Journalist Threatened With Prison
Mumia Abu-Jamal, On Death Row After an Unfair Trial


Permanent exhibits

Letters to the Ethical Spectacle
Other Ethical, Political and Legal Web Sites

About Jonathan Wallace and The Ethical Spectacle
Contribute to the July issue: "What is Government For?" We are seeking comments and articles of any length, from a paragraph to a thesis, on the proper role of government (if any) in our lives. Email Jonathan Wallace with your suggestion or article.
Write for the Spectacle! Articles on any ethical, political or legal topic will be considered, whether or not I agree with the opinions expressed. I am also seeking correspondents to cover Washington, business, the Net, foreign countries, and other zones of interest.
Coming next month: The Bomb. July: What is Government For? August: The Media. September: Gun Rights, Gun Control. October: The Election.
"Noticing that no-one held the values I defended, I decided to make a spectacle of myself."--Richard Foreman
Copyright Jonathan Wallace 1996 except as otherwise indicated
Artist: Laurie Caro; all art copyright Laurie Caro 1996 except as otherwise indicated
Email: jw@bway.net