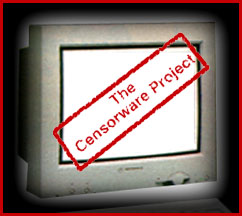 The Censorware Project was formed by a group of writers and net.activists in late 1997. Our goal is to bring to light information about censorware products which is, by their nature, hidden. We are:
Seth Finkelstein
Bennett Haselton
Jamie McCarthy
Michael Sims
James Tyre
Jonathan Wallace
---
We released a report on June 22, 1998:
Protecting Judges Against Liza Minnelli: The WebSENSE Censorware at Work

Our tax dollars are being spent to protect judges, and library users, against Liza Minnelli, Jewish teens, a grocer, a speakers' bureau, a mortgage company--and some free speech advocates. All of these sites are blocked by WebSENSE under the Sex1, Sex2 or Adult Entertainment categories, the settings used in the federal courts and in libraries.
---
We released a report on April 22, 1998:
The Censorware Project announced today that it has learned that federal courts are using the WebSENSE censorware product, at least in the Eighth, Ninth and Tenth judicial circuits (covering twenty-two states and Guam).
---
We also released a report on February 17, 1998:
In our report Blacklisted by Cyber Patrol: From Ada to Yoyo, issued in late December, we disclosed that Cyber Patrol blocks the premier Usenet archive and search engine, Deja News. As a result of that report and the attendant publicity, Microsystems Inc., publishers of Cyber Patrol, unblocked many of the sites we listed. However, the company stood its ground and refused to unblock Deja News.
---
And please see our first report of December 23, 1997:
Blacklisted by Cyber Patrol:
From Ada To Yoyo

Our conclusion is that Cyber Patrol blocks a great many sites which do not deserve to be, and that furthermore, looking at past reports of the product's accuracy, fixing these errors is a low priority.
---
The Censorware Project was the Web Book Award on March 4th, 1998. Ironically, its web site was blocked by Cyber Patrol, probably for its humor page Shameless Nudity. ("Click to see a picture with gore in it!")

As usual, the authors were not informed of the blocking, learning of it by accident. Their attempts to contact Microsystems were ignored, and their site is still blocked -- under its old URL -- Cyber Patrol has not caught up with them yet.

We later learned that that humor page is also blocked by Bess.
---
The Censorware Project is hosted at
The Ethical Spectacle