Bill Clinton Should Resign, by Jonathan Wallace

The Ethical Spectacle Joins ACLU Censorware Suit


>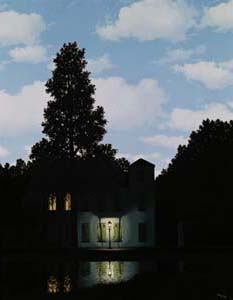 Brooklyn of Dreams, by Jonathan Wallace
A hyperfiction of four stories set in Brooklyn, each of which is linked to the other three. The stories portray four people who know each other, on four days a decade apart.
W.B. Yeats' He Bids His Beloved Be At Peace
Dedicated to Dr. Stanley Wallace
"Pardon old fathers, if you still remain
Somewhere in ear-shot for the story's end...
...I have nothing but a book,
Nothing but that to prove your blood and mine."
Illustration: Magritte, Empire of Lights

Land Mines
No More "Murder Around the Edges"--Ban Landmines Now , by Jonathan Wallace
The Purpose of an Army is to Kill People and Break Things, by Bob Wilson
Whatever You Do, Don't Ban My Shotgun, by Jim Ray

The Usual Suspects
Print, not cursive, won the handwriting battle, by Auren Hoffman
Bob Wilson on Welfare Reform
A Call for the Clinton Doctrine, by Jason Chervokas
An Open Letter to a University About Hate Speech, by Jamie McCarthy
Richard Thieme's Islands in the Clickstream: The Illusion of Control
Wayne Grytting's American Newspeak
Martin Siegel's NetToon: Doing the Diversity Drag
Snipe's Portfolio
Letters to The Ethical Spectacle

The Censorware Project: Blacklisted by CyberPatrol: From Ada to Yoyo
Why Libraries Shouldn't Buy Censorware; The Censorware Page

SEX, LAWS and CYBERSPACE by Jonathan Wallace and Mark Mangan

"Required reading for anyone interested in free speech in modern society."
New York Times Book Review

An Auschwitz Alphabet; Kazoo Concerto (hyperfiction); A Tribute to Dr. Martin Luther King; The Free Speech Museum; Snipe's Portfolio

Write for the Spectacle! Articles on any ethical, political or legal topic will be considered, whether or not I agree with the opinions expressed.
Future issues under construction: James Joyce; Freedom of Speech; Evil.
---
"Noticing that no-one held the values I defended, I decided to make a spectacle of myself."--Richard Foreman