THE ETHICAL SPECTACLE
(TM)


Vol. I, No. 9 September 1995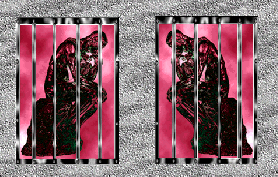 The Prisoner's Dilemma
Introduction: We Are All Prisoners
The Prisoner's Dilemma in:
Welfare: Between the States;The Poor and the Rest of Us
Variations:
An Ethic Based on the Prisoner's Dilemma
Leon Felkins on the Social Dilemma

Guest Voice: Mike Tyson is a Rapist, Not a Hero by Lisa G.

Alert
Please read about Mumia Abu-Jamal

Permanent exhibits

Letters to the Ethical Spectacle
Other Ethical, Political and Legal Web Sites

October's theme: God. November: pornography. December: the movies!
"Noticing that no-one held the values I defended, I decided to make a spectacle of myself."--Richard Foreman
Artist, Laurie Caro; all art copyright Laurie Caro 1995.
Text copyright Jonathan Blumen 1995, except as otherwise specified.
Email: jblumen@spectacle.org